Spring here in the Mid-Atlantic (are we still the Mid-Atlantic now that we're Wild and Wonderful West Virginia?  Let's just go with it…) is fleeting.  Much like fall, it's a glorious 2-7 days sprinkled amidst howling grey winter and 90 degrees and swampy humidity.  But you know what, it WAS great.  No matter the weather, Jimmy attended several open hunter and dressage schooling shows to prep for the main events of the year.  We are very lucky to live in an area where we can pick from a multitude of really nice schooling shows each weekend.
For us what makes it really the start of the big part of the show season is Southern States Regional Morgan.  We love this show, not just because we are a part of the Virginia-Carolinas Morgan Horse Club, but also because it is a wonderfully fun, hospitable show.  Having been to many large recognized shows, Southern States remains the most welcoming.  I've made so many friends, enjoyed so many good times, and the facility is fantastic.
Most importantly – no matter the number of entries or the current climate, Southern States supports Sport Horses.  This is NOT an easy thing to do for a breed show, and we appreciate them and hope our fellow sport horse competitors show their support when they can as well.
Our 2019 Southern States was extra special – it was Clara's first overnight show.  And with Big Brother Jimmy, who is a Veteran of travel and competing, what better scenario?  It will surprise no one who knows Clara that she was utterly unimpressed other than the extra attention she learns goes along with being a show horse.  THAT, she was REALLY into!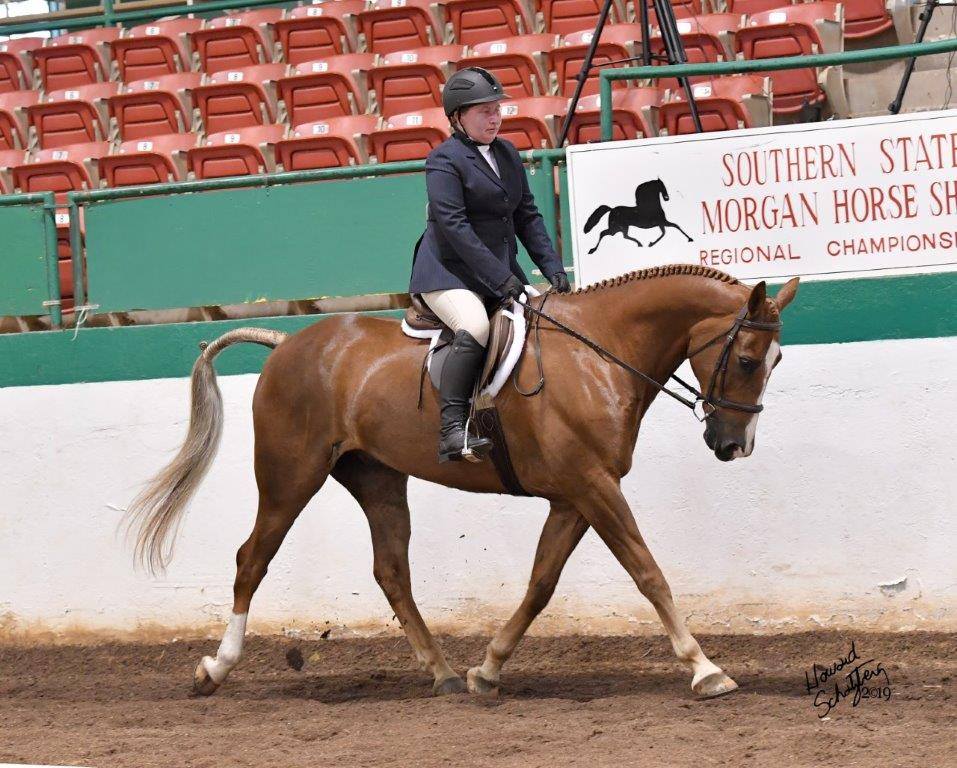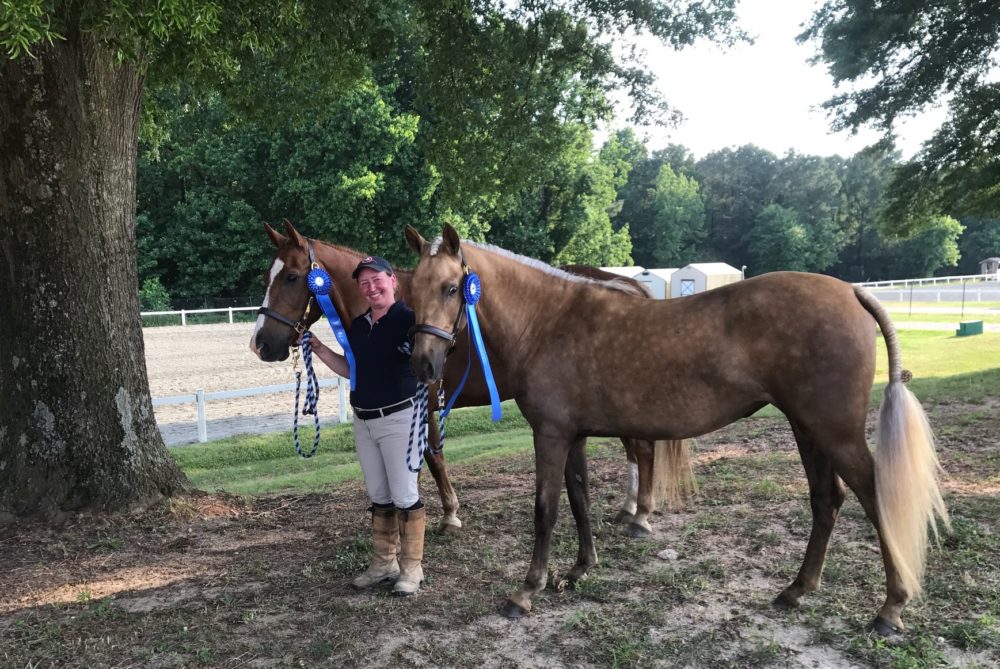 As sport horse competitors and supporters, we were THRILLED with the numbers we saw!  Double digits in the main ring Sport Horse Under Saddle, and full classes over fences.  These divisions are not always easy to fill, and from a show management standpoint, they require different judges, so entry numbers matter.  The main ring class was so much fun, I think everyone had a good time getting to show their sport horses in the coliseum!
Sport horse classes started for us with our Miss Clara competing in-hand trail, as well as ranch horse in-hand – we just wanted her go to in the ring and enjoy herself, and she walked away with a blue ribbon in each!  We were so proud and let her have a nap – Jimmy's turn.  And he did not disappoint, with top ribbons in Hunter Hack as well as the 2'6 Hunter!  Clara and Jimmy also gave us a wonderful end of day by finishing first and second in their respective Sport Horse in Hand Divisions.  Clara, at her first horse show, was 3 for 3 in really great company.  
Jimmy and Jen had two really nice, workmanlike dressage tests on Saturday, earning a second in both of their divisions.  Beyond proud of both of these amazing horses, we could not have asked for a better show.